ABOUT US
Our company manufactures bags, purses and much more ones using Kazakh national style. We are one of the first companies that could come up with its brand and win the convenience of thousands of people due to the quality of its products.
 We have an interrelation between price and quality, as well as a unique design to your liking. All products are made by the hands of our masters, we are proud of contributing the development of domestic products, opening jobs and developing the country's economy.
 In our assortment you can find more than 200 unique products. And every day we renew the list of our products.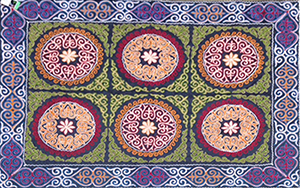 OUR ADVANTAGES
---
USING ECOLOGICAL CLEAN RAW MATERIALS
All our products are made from quality raw materials. We prefer real silk.
---
UNIQUE DESIGN IN THE KAZAKH NATIONAL STYLE
Buying our products you get unusual things, which decorated with Kazakh ornaments.
---
ABUNDANCE OF ASSORTMENT
Every buyer is important for us and for you we enlarge our assortment.
---
SOLIDARITY IS THE MAIN
We are in solidarity with all our customers. We place the first priority on the desire of buyers and colleagues.
---
AFFORDABLE PRICES
Our products are not only beautiful and unique, but also pleasantly surprising and affordable prices. High quality and available price, this is the main idea of ​​our company!
PRICE LIST
БІЗБЕН БАЙЛАНЫС
Astana city, Tauelsizdik avenue, 54, «National museum of Republic of Kazakhstan», 7
th
boutique